Ilithi Dragon wrote:

New ticket: The PM Inbox/Outbox has a severely restricted size limit, with a cap of just 50 messages for both. This is entirely unacceptable for anyone who prefers to save PMs for later reference.

It is also particularly troublesome for me, as the way I am running the RPG involves sending, and sometimes receiving numerous PMs to provide players with info that pops up on their screens, results of various rolls, etc.
I was going to comment on the harshness in the tone of this ticket, however since you got me off my ass and I fixed it within a 24 hours turnaround, I guess it worked... amirite?
Anyway, I maximized the inbox limit to 400, the highest It can go before I have to dig into the code and change things at risk of losing everything we have in our collective inboxes.
Now, if 400 isn't enough, I also discovered we can make subfolders, each with the capacity of the inbox, so you theoretically could create folder after folder after folder each with a 400 limit.
Here's where to access that feature, I also highlighted a folder I made for example of where they appear. Ilithi, take a look and let me know what you think.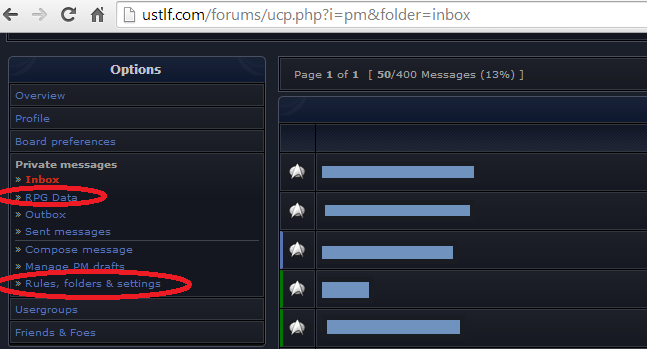 _________________
1. The Godfather II (PS3)
2. Assassins Creed II (PS3)
3. Bioshock (PS3)
4. Bioshock II (PS3)
5. Fallout 3 (PS3)
6. Fallout New Vegas (PS3)
7. Dynasty Warriors 6 Empires (PS3)
8. Dynasty Warriors 7 (PS3)
9. Borderlands (PS3)
10. Sly Cooper HD (PS3)
11. Sonic's Ultimate Genesis Collection (PS3)
12. Resident Evil 5 (PS3)
13. Resident Evil 6 (PS3)
14. Metal Gear Solid 3 HD (PS3)
15. Metal Gear Solid 3 HD (Vita)
16. Dynasty Warriors Gundam 3 (PS3)
17. Trivial Pursuit (PS3)
18. Fist of the North Star: Kens Rage (PS3)
19. One Piece Pirate Warriors 2 (PS3)
20. Resident Evil Remake HD (PS4)